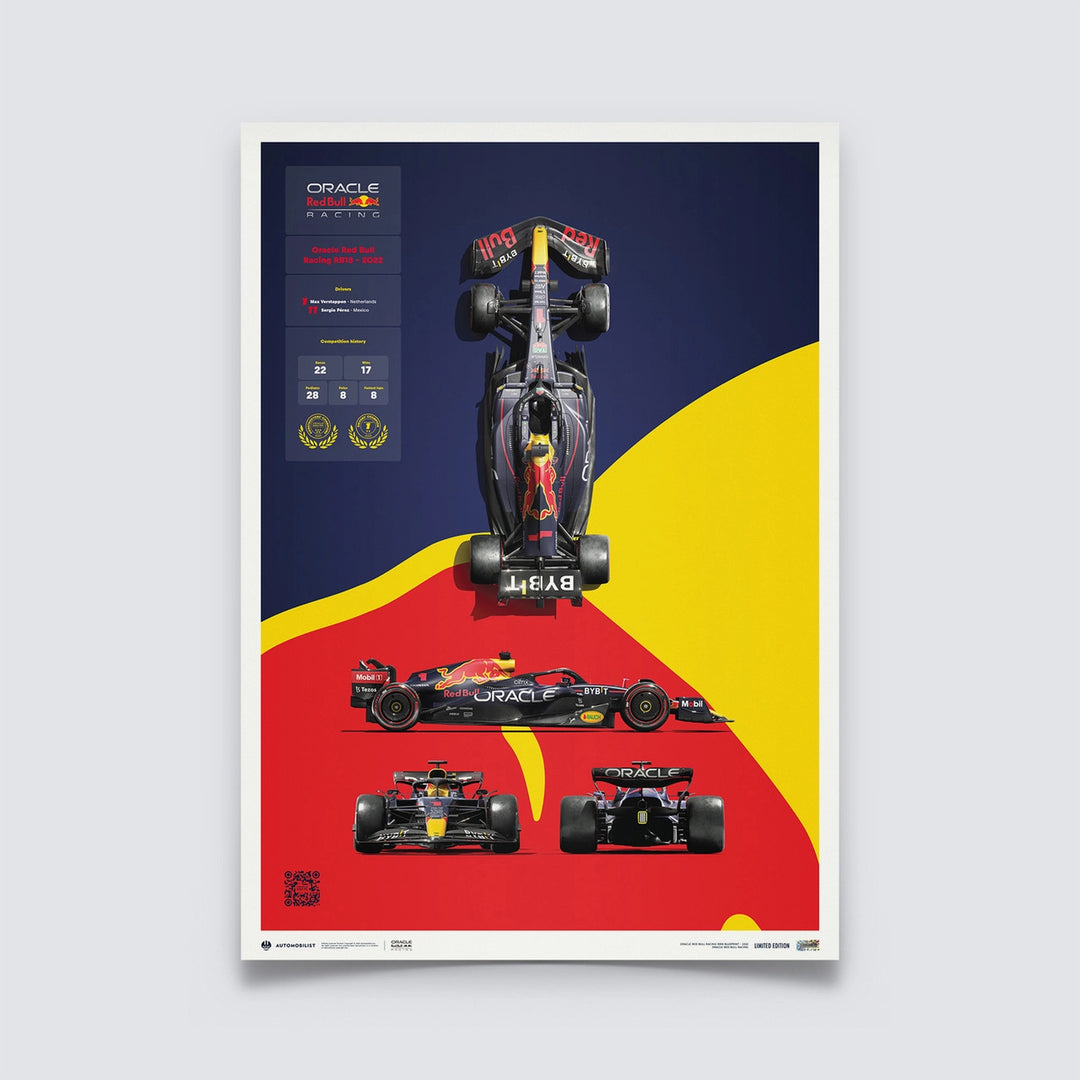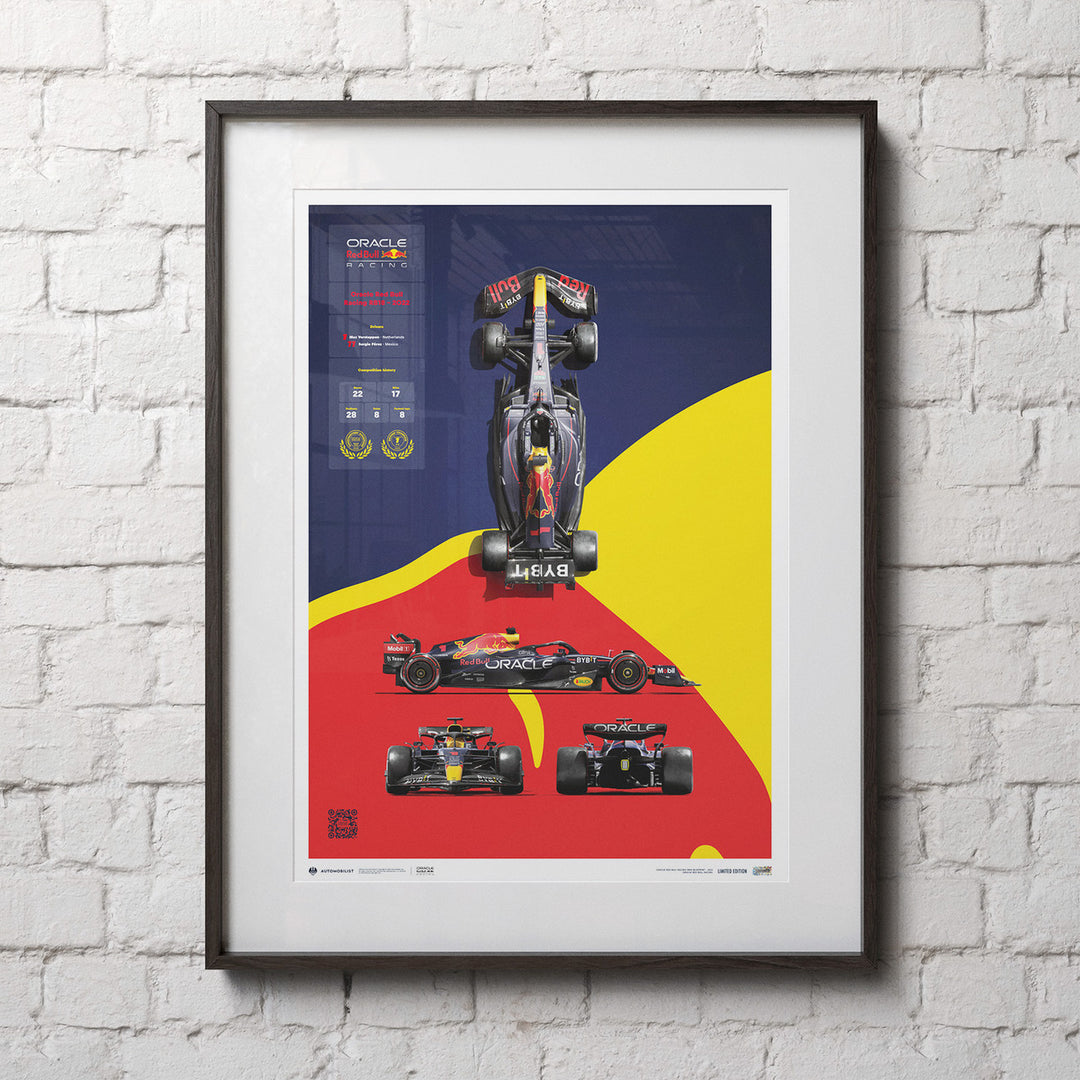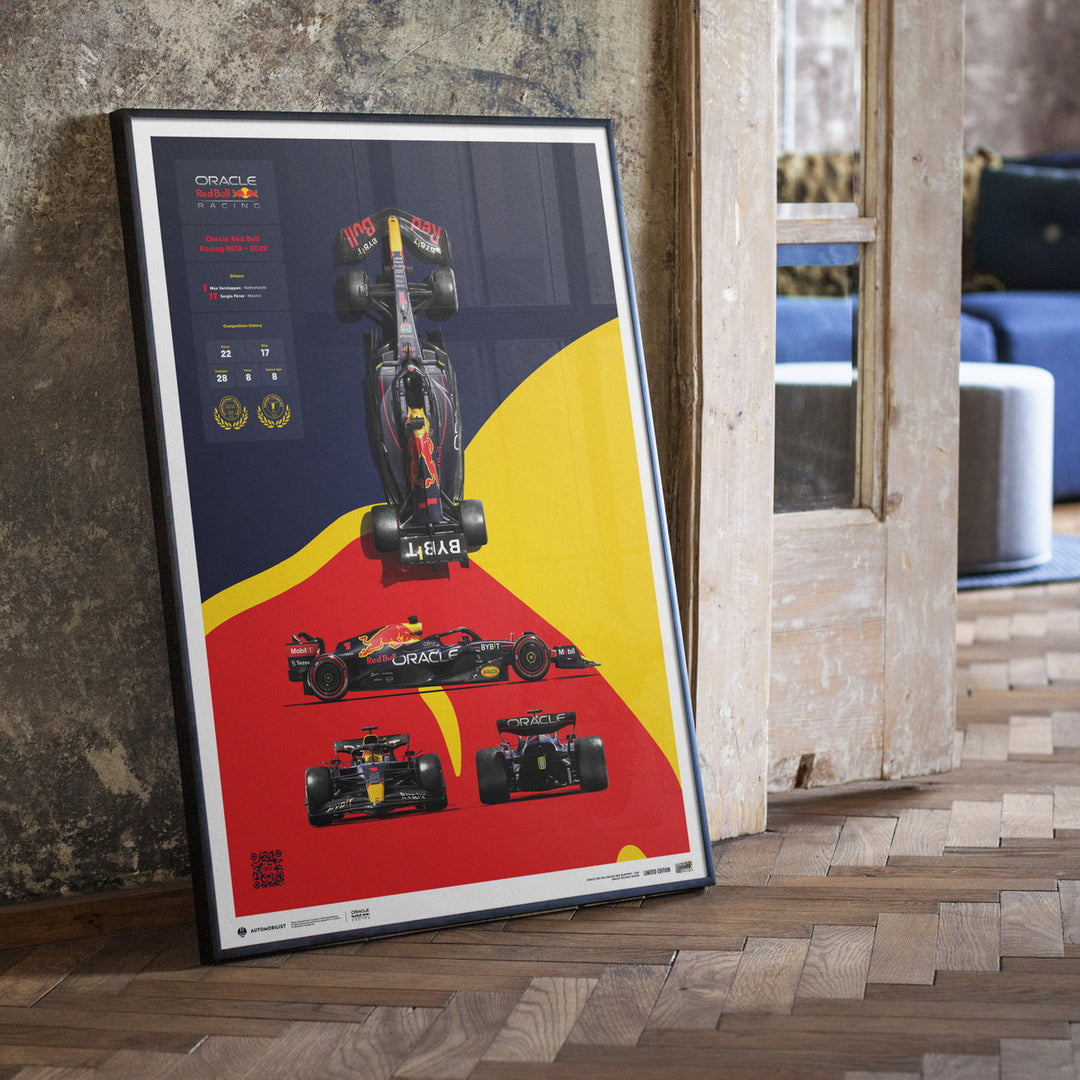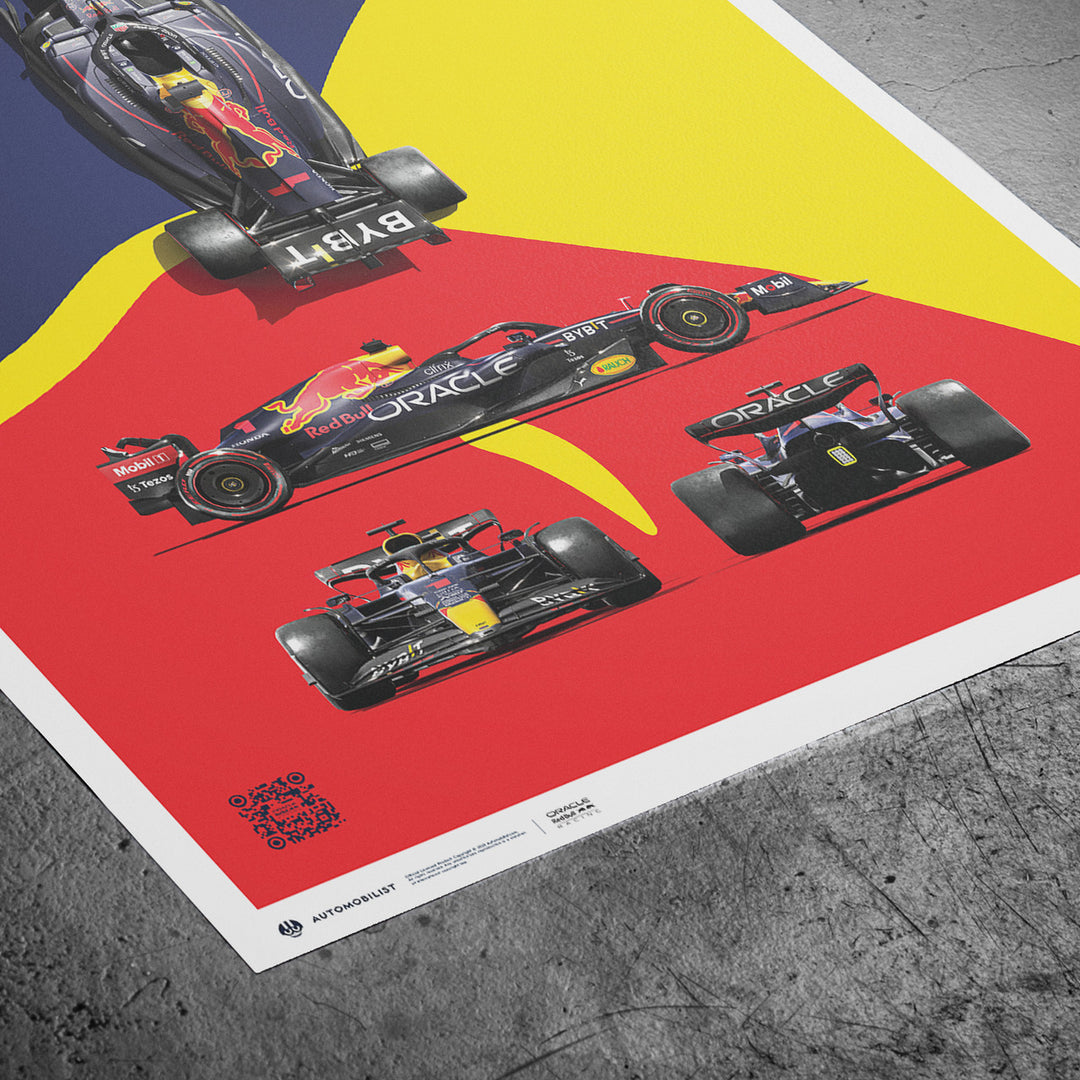 Oracle Red Bull Racing - RB18 - Blueprint - 2022 | Limited Edition
Product Code: PROD01004130
Regular price
$61.00 USD ex GST
$67.10 USD inc GST
/
---
Product Code:
PROD01004130
Product Description:
Oracle Red Bull Racing - RB18 - Blueprint - 2022 | Limited Edition Print
Product Specifications:
Inspired by the 2022 season that ended with Max Verstappen's back-to-back Driver's Championship title and fifth Constructors' title for Oracle Red Bull Racing
Depicts the RB18 of Max Verstappen and Sergio Pérez
Features a special QR code that utilizes augmented reality to project the RB18 through your phone's camera
Special edition of 200 pieces only
Comes as a standard sized poster, 50 x 70 cm (19¾ x 27½ inch), framing not included
Reproduced as a high quality offset print on 175g/m2 paper
Ships rolled and delivered in a protective tube
Officially Licensed Product | Oracle Red Bull Racing
About This Product:
The RB18 is no stranger to all F1 fans. Competing in the 2022 Formula One World Championship, its status of greatness was sealed by Max Verstappen winning his second consecutive Drivers' Championship as well as the most Grand Prix wins in history. With Sergio Peréz finishing third in the Drivers' Standings, Red Bull secured their fifth Constructors' Championship, a feat they had not achieved since 2013. Masterminded by designer Adrian Newey, RB18 stands as his most successful Formula One design to date and is widely regarded as one of the most dominant cars ever to grace the circuit.
The RB18 was propelled to greatness by a 740 BHP (544.64 KW) Red Bull RBPTH001 1.6 L direct injection V6 turbocharged engine. In combination with the cutting-edge Red Bull Powertrains electric motor, the car was a technical marvel. The engine is strategically placed in a mid-mounted, rear-wheel drive layout, giving the car exceptional handling and balance, while its lightweight construction, weighing in at 798 kg (1759 lbs), provides an aerodynamic advantage. Considering the stats from the 2022 Formula One season, we can call the RB18 a masterpiece of automotive engineering.
The Red Bull Racing RB18 is joining the roster of our Blueprint Collection! The poster is a testament to the remarkable craftsmanship and design of the vehicle, displaying it from various angles to highlight its impressive features and distinguished livery. The poster is centred around the car's performance and accomplishments, with a list of starts, wins, podium finishes, and the drivers who contributed to its success. Adorned with the colours of the Red Bull Racing livery, the poster is coming in our Limited Edition of 200 pieces, as well as Classic and Mini versions. A fitting tribute to the team's incredible achievements during the 2022 season.
The artwork contains a unique QR code from Oracle Red Bull Racing that has been integrated into the poster's design. By using augmented reality technology, the QR code can project the Formula car onto your phone's camera. To experience this, simply scan the QR code, point your phone's camera, and enjoy your personalized version of the RB18. Don't forget to share your creations on social media and tag our channels!
For Future Release Model Cars:
We have A LOT of future release model cars listed on this website and it's not uncommon for these items to take anywhere between 6-18 months to arrive.

If you're interested in ordering/buying these models then you have two options available to you:
Pre-Order Model Cars At Your Local Stockist:
If a model car is marked as a future release on our website then please enquire about placing a pre-order with your local model car / hobby stockist as soon as possible.
Please note, all stockists are seperate businesses to Authentic Collectables, we are suppliers to them. Each stockist has different ways of how they accept pre-orders for future release models.
To find your local Authentic Collectables stockist, please click here.
Register Your Interest For Model Cars Here On Our Website:
You can also register your interest for future model car releases online with us to be notified when they are released.
To do this you need to navigate to the product page of the specific model you're interested in.
Once you're on the model product page, please click on the black 'Register Your Interest' tab which should appear on the right hand side of your screen on each future release product page on our website, enter your email in the relevant section and submit the form.
When the model arrives in stock you will receive an advanced email notification from us letting you know that it is in stock with a link to complete and pay for your order while stock lasts.
Please ensure your email address is right before submitting the register your interest form. Unfortunately a confirmation email isn't sent when you register your interest for models on our website, the only time the system will email you about that specific model will be when it arrives in stock.
We offer this option due to the amount of time models generally take to produce (usually 6-18 months) so you're not out of pocket until the model actually arrives.
-
For Future Release Prints, Books + Other Products:
Depending on the type of product or brand, we also offer a paid pre-order option on our website.
If a product is available for paid pre-order on our website then you will be able to add it to your cart and purchase it like any normal in stock item.
Details about the pre-order will be listed at the top of the product description if it's available and when we expect it to arrive in our warehouse.
A paid pre-order option will only ever be available on our website for products that aren't models - we usually use this feature for prints, books and other non-model products.

We offer the paid pre-order option online with us for these products because we can predict production and shipping times more accurately and are usually much faster than the model cars to produce.

Of course, if you wish to order these items from your local stockist, please make an enquiry with them.
-
For All In Stock Products:
If a product is in stock then it should now be available at your local Authentic Collectables stockist or you can shop online directly with us and it will usually be shipped on the next business day unless otherwise stated or it's a holiday period.
Product images used on our website may be of a real car photo, model car photo, mock-up, render, illustration, prototype or production sample and are used for display purposes only.
Please be mindful that the vast majority of products available from us are produced in limited edition numbers and will only be available while stocks last which is why it is very important to pre-order at a stockist (or here online where possible - see above) or register your interest for future release models.