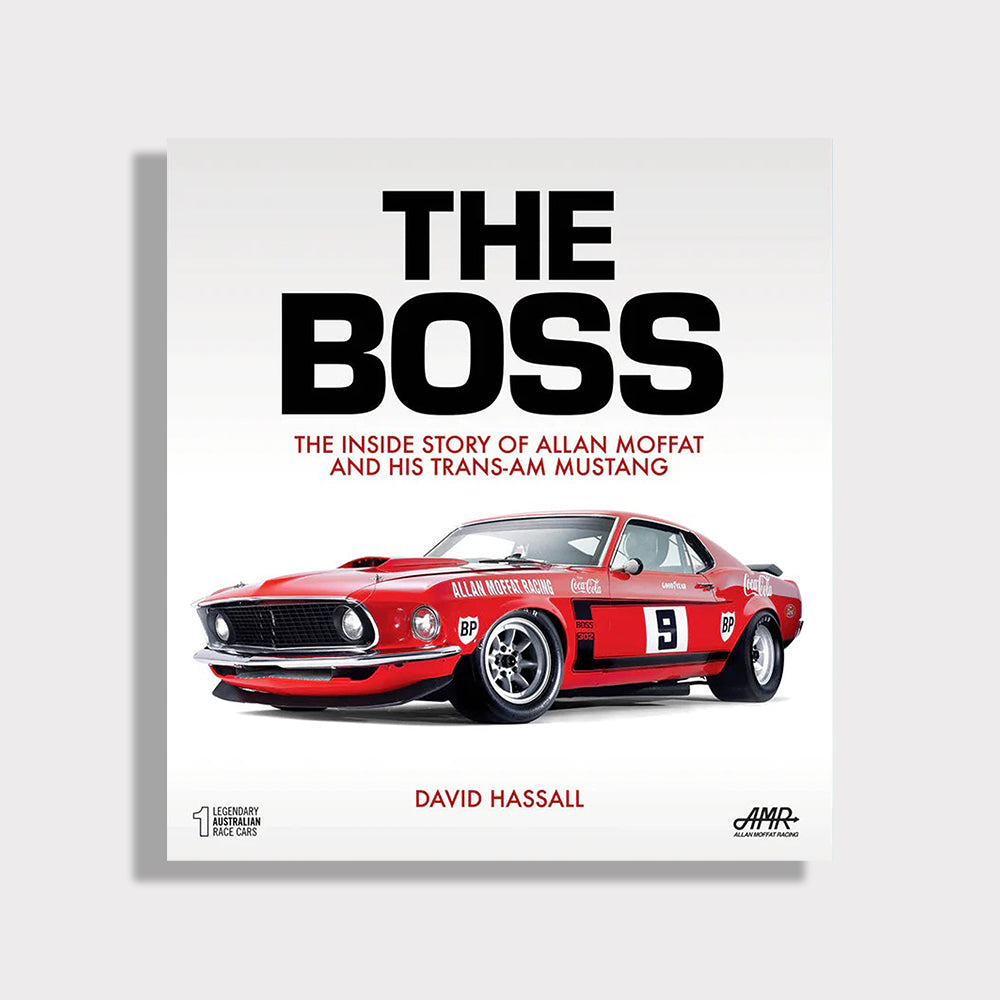 THE BOSS: The Inside Story Of Allan Moffat And His Trans-Am Mustang Hardcover Book (Pre-Order)
Product Code: V8SBBOSS
Regular price
$116.00 USD ex GST
$127.60 USD inc GST
/
---
Please Note: This book is available to pre-order. The current ETA is January 2024.Product Specifications:
Officially licensed by Allan Moffat Racing
450 large-format pages (300mm x 275mm)
600 photos, most never seen before
Hardcover, high-end production
French-fold protective dust jacket
Two bookmarks
About This Product:
This is the inside story of Allan Moffat and his Trans-Am Mustang.
A high-quality hardcover book five years in the making, this publication brings to life the incredible story of the most famous car in Australian motor racing history.
The Boss: The Inside Story of Allan Moffat and his Trans-Am Mustang was produced with Allan's cooperation, is officially licenced by Allan Moffat Racing, and the Foreword was written by Pauline Moffat.
Allan was interviewed extensively for the book, years before his well-publicised dementia was diagnosed, providing a unique and irreplaceable perspective on his favourite car and its colourful history.
Moffat's carers granted exclusive access to Allan's extensive collection of documents and photographs for the book, as did Peter Lyall, who looks after the car for the Bowden family in Queensland.
The Boss was written by award-winning motor sport journalist and historian David Hassall. It consists of more than 110,000 words packed with rare detail and unique insights provided by the people who were there.
Illustrating the approximately 450 pages are around 600 historic black-and-white and colour photos, most of which have never previously been published.
Photos include the car being built at Kar-Kraft in Detroit and Bud Moore Engineering in South Carolina, arriving in Australia, appearing for the first time at Sandown, and being prepared (and repaired) at Moffat's own workshop in Melbourne.
All the major players in the car's extraordinary race career provide first-hand accounts, most for the first time, bringing a richness to the iconic car and driver's brilliant and often controversial story.
The large-format book uncovers the technical secrets that made the Trans-Am Mustang the most advanced racing sedan of its time, as revealed by engineer Lee Dykstra, who was responsible for the Trans-Am Mustang's design and construction at Kar-Kraft.
More than two dozen people were interviewed exclusively for the book, including Don Gibb, who organised the groundbreaking Coca-Cola sponsorship, Coke executive David Maxwell, who did the deal, and hard-working AMR mechanics Barry Nelson, Peter Thorn, Ian Lees, John Myers, Lou Mallia and Ray Cutchie.
The Boss also includes chapters outlining Moffat's rise to fame in Australia and America, revealing in previously unreported detail his early career, peppered with Allan's own candid recollections.
This incredible book is a must have for Moffat fans and it's now available to pre-order here, don't miss it.
For Future Release Model Cars:
We have A LOT of future release model cars listed on this website and it's not uncommon for these items to take anywhere between 6-18 months to arrive.

If you're interested in ordering/buying these models then you have two options available to you:
Pre-Order Model Cars At Your Local Stockist:
If a model car is marked as a future release on our website then please enquire about placing a pre-order with your local model car / hobby stockist as soon as possible.
Please note, all stockists are seperate businesses to Authentic Collectables, we are suppliers to them. Each stockist has different ways of how they accept pre-orders for future release models.
To find your local Authentic Collectables stockist, please click here.
Register Your Interest For Model Cars Here On Our Website:
You can also register your interest for future model car releases online with us to be notified when they are released.
To do this you need to navigate to the product page of the specific model you're interested in.
Once you're on the model product page, please click on the black 'Register Your Interest' tab which should appear on the right hand side of your screen on each future release product page on our website, enter your email in the relevant section and submit the form.
When the model arrives in stock you will receive an advanced email notification from us letting you know that it is in stock with a link to complete and pay for your order while stock lasts.
Please ensure your email address is right before submitting the register your interest form. Unfortunately a confirmation email isn't sent when you register your interest for models on our website, the only time the system will email you about that specific model will be when it arrives in stock.
We offer this option due to the amount of time models generally take to produce (usually 6-18 months) so you're not out of pocket until the model actually arrives.
-
For Future Release Prints, Books + Other Products:
Depending on the type of product or brand, we also offer a paid pre-order option on our website.
If a product is available for paid pre-order on our website then you will be able to add it to your cart and purchase it like any normal in stock item.
Details about the pre-order will be listed at the top of the product description if it's available and when we expect it to arrive in our warehouse.
A paid pre-order option will only ever be available on our website for products that aren't models - we usually use this feature for prints, books and other non-model products.

We offer the paid pre-order option online with us for these products because we can predict production and shipping times more accurately and are usually much faster than the model cars to produce.

Of course, if you wish to order these items from your local stockist, please make an enquiry with them.
-
For All In Stock Products:
If a product is in stock then it should now be available at your local Authentic Collectables stockist or you can shop online directly with us and it will usually be shipped on the next business day unless otherwise stated or it's a holiday period.
Product images used on our website may be of a real car photo, model car photo, mock-up, render, illustration, prototype or production sample and are used for display purposes only.
Please be mindful that the vast majority of products available from us are produced in limited edition numbers and will only be available while stocks last which is why it is very important to pre-order at a stockist (or here online where possible - see above) or register your interest for future release models.